Le chemin de table de Jacqueline T. - The table runner by Jacqueline T.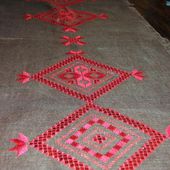 Nicosie, motifs pour chemin de table (H1020) - fiche de broderie hardanger - Aziliz Création
Modèle de broderie hardanger: - Ce modèle a été brodé sur un lin 12 fils chocolat (50 x 140 cm), avec des fils Aurifil: coton perlé Maestoso n°1103, Vivace n°1103 et Brillo n°719. - On peu...
https://www.azilizcreation.net/listing/529312058/nicosie-motifs-pour-chemin-de-table
English below
Merci à Jacqueline T. d'avoir réalisé le "Chemin de table Nicosie". Quelle jolie surprise de le découvrir en photos, brodé en coton perlé DMC rouge n°8 et n°12 sur une Lugana blanche. Et bravo pour ces finitions: un ourlet avec des jours et des angles en onglet!
Thanks to Jacqueline T. for making the "Nicosie Table Runner". What a nice surprise to discover in photos, embroidered in red DMC pearl cotton n ° 8 and n ° 12 on a white Lugana. And congratulations for these finishes: a hem with mitered days and angles!