Pochon Bruyère: hardanger, perles, soie...Heather pouch: hardanger, beads, silk...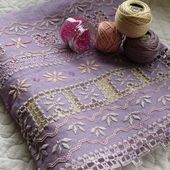 Aziliz Création - Couture & Broderie
https://www.azilizcreation.net/shop/21947356/hardanger-kits-fiches
English below
Fêtons l'arrivée du printemps avec un pochon aux harmonies bruyère. Lin, coton perlé, perles et ruban de soie se marient à merveille avec le hardanger...Création Cécile Pozzo di Borgo, en vente ici.
Celebrate the spring arrival with a pouch in heather harmonies. Linen, pearled cotton, beads and silk ribbon join to hardanger stitches. Design Cécile Pozzo di Borgo, sold here.